The "Manikarnika" actress has been in news a lot lately, but all for too controversial reasons. Somewhere in the SSR-death case mystery and drugs discussions and the demolishing of her office by the BMC, we have lost the Kangana Ranaut for what we have known her to be.
A flawless stunner, Kangana Ranaut has shown us how despite being a 21st-century modern woman, we can drape a saree for literally any and every occasion. Kangana has chosen sarees for airport looks, televised interviews, movie promotions, and random appearances. The light-weight floral-printed organza sarees styled with a sleeveless blouse and a string of pearls have become synonymous to her persona. She carries the traditional Banarasi with equal panache as well.
Now that we are right ahead of the grand festivities, let's look back at 5 saree-looks of Kangana Ranaut that any of you gorgeous ladies can re-create by making a quick order with Amazon.
Sashti
We are picking Kangana's signature floral-saree in pastels for the day of Sashti because we want to keep it stylish but a little simple today. A matching thin-sleeved blouse and strings of pearls. There's something classically retro about this look. An old Bollywood charm you could say.
Re-create this look by getting your hands on this saree costing less than Rs 700 at Amazon.
Saptami
From Saptami, the bling and dazzle enter our wardrobe choice. Drape a black silk saree enriched with golden threads woven in. A fancy Kundan choker and a Gajra securing the bun is enough for accessories. A tiny bindi and nude make-up completes the look.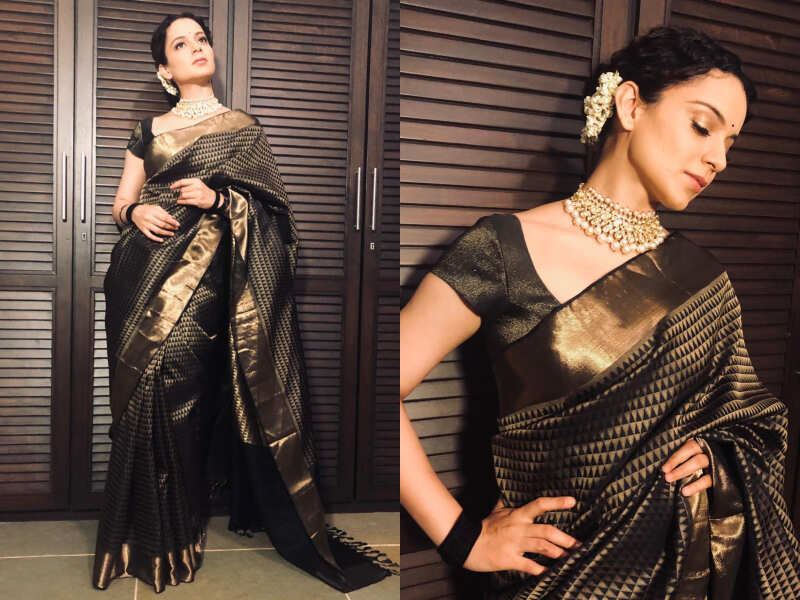 You can easily re-create look by getting a gorgeous black saree with golden zari weaving from Amazon here.
Mahaashtami
Go all gold on Mahashtami, like the Mother Goddess, you too ought to shine today. So we pick this look of a golden silk saree with a beautiful self-pattern. Let your hair loose. Paint a bright red lip against the backdrop of mute naked eyes. A statement choker adds the little bling needed. Given the saree is golden, you don't need a lot of jewelry anyway.
Get a cream-golden Kanchipuram saree from Amazon that can help you achieve this look in less than a thousand bucks. Find it here.
Mahanavami
For Navami, we have picked this uber gorgeous organza saree look. This 6 yards of pure class features a broad golden border and has golden motifs all over. Though the saree gives a heavy-look, organza, as a material, is very light to wear. A traditions choker and matching earrings word with color-synchronized make-up and neatly-parted hair round up the look.
A similar nude organza saree with a broad border and butas scattered all over can be ordered from Amazon here.
Dashami/Dusshera
Finally, the day when the good triumphs over evil, is here. On this day, try re-creating this Banarasi look. A neem-green embellished with intricately embroidered border in red in all you want to make heads turn. We love how Kangana keeps her make-up all nature in all these appearances. She never overkills the accessory bit which is something inspiring. Love the glowing skin, nude lips, smokey kajal, and that tiny bindi again. Don't miss out on that ball-pen dot of a bindi.
We have located a stunning green Banarasi saree with a red border at Amazon. And it costs less than you could have imagined. Here.

For more unbiased Bollywood and entertainment news, please subscribe to Bollywood Shollywood and follow us on Bollywood Shollywood's Facebook Page.